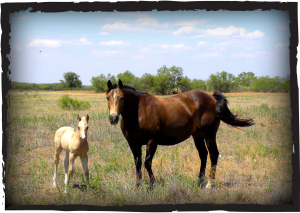 Mares are not used in the daily workings on the ranch. They are used exclusively for breeding purposes. Mares are pasture bred and foal in pasture. The stallions are turned out with them from mid April through early July.
At Tongue River, the ranch-raised fillies are halter broke as yearlings and ridden 30 days as 2-year-olds.  This is done to get them accustomed to being handled and to help in the selection of replacement broodmares.
Thirty percent of the fillies go into the broodmare band and the rest are sold at the yearly Remuda Sale each fall.