GELDINGS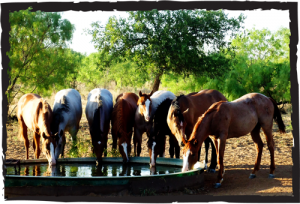 The cowboys' strings consist of all Tongue River raised geldings. Each cowboy is responsible for the training and health of his mounts. The geldings are also used in ranch rodeos and in ranch horse competitions throughout the year.  However, they are primarily used for cow work on the ranch.
After the colts are started, the cowboys use their horses to prowl cattle, check water and light use for the first couple months while working them as 2-year-olds.
Tongue River Ranch depends on and uses the American Quarter Horse daily to operate the ranch efficiently. The breed could not be matched by any other. We are proud of our horses!